Started on: November 2016
Completed on: January 2018
Objectives
To produce educational contents within the frame of the Astronomy Literacy project, taking advantage of the methodologies, competences and resources of a higher education training programme in the field of Communication Design.
To familiarise the students in Communication Design with:

the work opportunities in science communication;
the specific needs in science communication, such as the communication of information that is complex, and the transfer of information between audiences in different domains.

To involve future professionals in the production of the material and visual culture of science, and astronomy, communication.
Reach
Support was given to the work of ten students of the MA in Communication Design and New Media. One of these works evolved into a master's thesis and secured itself as a proposal to be implemented at an international scale.
Two public exhibitions, organised by the master's coordination and the students, presented these an other works at a central venue in Lisbon.
This project, an initiative of Instituto de Astrofísica e Ciências do Espaço (IA), appeared in the context of the production of free educational contents, in Portuguese and with an international reach, for the Astronomy Literacy project, a project which aims to define global education objectives in astronomy to be applied in school curricula worldwide.
The project Astronomy and Design was an informal collaboration between IA and the coordination of the master course in Communication Design and New Media of the Faculty of Fine Arts of Universidade de Lisboa. Science communication and, in particular, the Astronomy Literacy project, were presented to the students and integrated in the curricular programme as one of the options.
In the course of the two editions of this collaboration, the Science Communication group at IA supported the practical work of ten students in the production of educational content or communication products in Astronomy, exhibited at the end of both academic years in two public exhibitions organised by the master's course themselves.
The students projects addressed several formats and themes. Among the themes explored by the students are the constellations and the literacy about the night sky, star formation and evolution, the origin and evolution of the Universe, and the relationship between Astronomy and several forms of popular and learned art. The formats and media used ranged from mobile applications and websites to representation models integrating paper and electronics.
One of these projects evolved into a MA thesis, securing itself as a proposal to produce educational contents for free distribution at an international scale.
Read the news article (in Portuguese) published by IA upon the launch of the exhibition in 2017.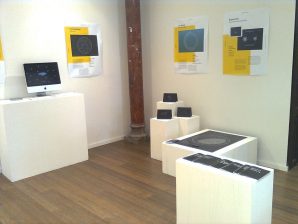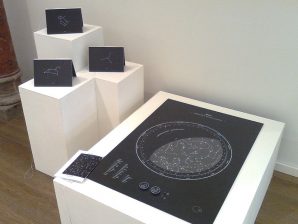 Share
Scope:
National
Coordination:
Sérgio Pereira and João Retrê (Instituto de Astrofísica e Ciências do Espaço)
Coordination of the MA in Communication Design and New Media of the Faculty of Fine Arts of Universidade de Lisboa