Objectives
The goals of the project Help Your Alien – A Solar System Game, whose end product is an educational board game, are to:
Increase the general knowledge about the Solar System and planetary sciences;
Promote an interest for science and, in particular, for Space and astrobiology, among children, youngsters and new publics;
Promote a realistic and well-founded view on what alien life might be;
Encourage critical and creative thinking.
Reach
The Portuguese version of the game (both physical and online) is intended to reach a wide scope within Portugal and among the other Portuguese speaking countries that integrate the PLOAD network (Brazil, Cape Verde, São Tomé and Príncipe, East Timor and Mozambique). The English translation, at an initial stage, and to other languages (Spanish, French, Italian, etc), at a later stage, will allow for an international reach.
Aimed at 8 to 12-year-old children, the game is intended to be implemented in formal education, reaching students and their teachers, as well as informal educational contexts, reaching families and including players of all ages.
The Solar System comprises an enormous variety of environments, so different from the Earth and so defying in terms of space exploration that the search and study of possible alien life (astrobiology) has become a large research field. Are we alone in the Solar System? And in the Universe? How could a real Martian look like?
Giving wings to imagination, but keeping it bordered and inspired by a solid scientific background, the project Help Your Alien – A Solar System Game involves the design and production of the board game ET: An Adventure in the Solar System dedicated to the planets and moons of the Solar System and to alien life forms that might inhabit these worlds. The game is a fun tool for hands-on learning, aimed at 8 to 12-year-old children and with the potential to be used in formal and informal educational contexts.
The game is being developed by the Science Communication Group and members of the Origin and Evolution of Stars and Planets Research Group of Instituto de Astrofísica e Ciências do Espaço.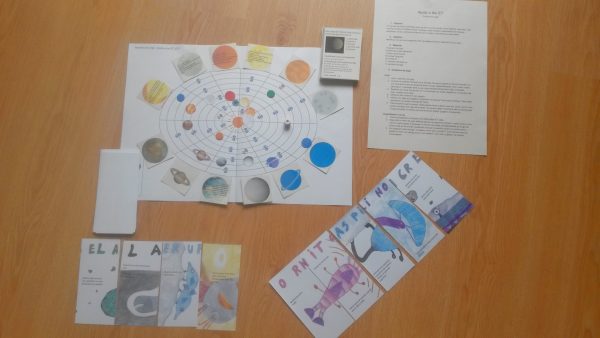 A "Print and Play" version is now freely available for download and print. Translations in Spanish and Italian are being prepared.
The presentation of the project in the CAP2021 conference can be viewed here:
Share