A board game that explores the Solar System using extraterrestrial creatures that, although imaginary, are adapted to the conditions of the planets or moons that they inhabit
A team effort of science communicators and researchers of the IA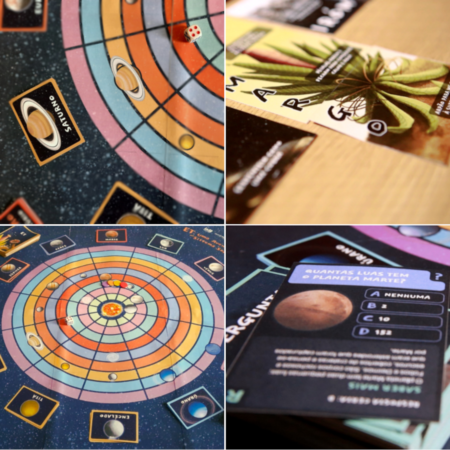 Number of players: 2-8
Age: 8+
Duration: 60-90 minutes
Languages: Portuguese and English
Funding: Europlanet Society through the Europlanet Public Engagement Funding Scheme
1. Free download in PDF
2. Print
3. Cut and glue
4. Gather pawns and a dice
5. Start the adventure!
---
Synopsis
We are in the 21st century and the search for life outside the Earth is one of the "hot topics" of science. For that reason, a group of scientists departs from Earth on a very special mission: finding life on other planets and moons of the Solar System. But beware, this life may be very different from the one we know on Earth, as it will have to be adapted to the conditions of the place in which it lives. Take part in this mission searching for strange creatures, where science mixes with fiction, and learn more about their home planets and moons.
ET – A Solar System Adventure is an educational board game designed for children from 8 to 12 years old. At school or with the family, the IA ​​invites everyone to explore different worlds in the Solar System, some of which real targets for the current search for life beyond Earth.
The players have to answer questions, which give them access to cards with information and to pieces of mini-puzzles of sixteen imaginary aliens from our planetary system. After assembling a complete alien, the ultimate goal is to guess its world of origin based on its physiological adaptations and the characteristics of the various planets and moons.
The game also includes a booklet with complementary information about planets, moons and small bodies in the Solar System, as well as basic notions about the search for life outside Earth, or astrobiology.
Your opinion is very important to us!
Did you play the game and have comments or suggestions?
Send us an email to .
---
Credits
© Institute of Astrophysics and Space Sciences (IA)
Conception and coordination: Catarina Leote (IA, Science Faculty of the University of Lisbon – Ciências ULisboa)
Development of content and game mechanics: Catarina Leote, Pedro Machado, Gabriella Gilli, José Silva, Ruben Gonçalves, Miguel Silva e Sérgio Pereira (IA, Ciências ULisboa), Pedro Sarmento (IA, University of Porto – UPorto), Alejandro Cardesín (European Space Astronomy Centre – ESAC, IA)
Scientific review: Pedro Machado, Gabriella Gilli, José Silva e Ruben Gonçalves (IA, Ciências ULisboa)
Proofreading: Sérgio Pereira (IA, Ciências ULisboa), Elsa Moreira (Porto Planetarium – Ciência Viva Centre, IA)
Design: Sara Patinho
Illustration: Paulo Galindro