With an average temperature above 460 ºC, Venus doesn't have liquid water on its surface, and only some traces of water vapour were found in the planet's atmosphere.
In 2008, the Venus Express mission, of the European Space Agency (ESA), detected in the top layers of the atmosphere of Venus a loss of hydrogen and oxygen into space, roughly in the same proportion as these atoms make the water molecule.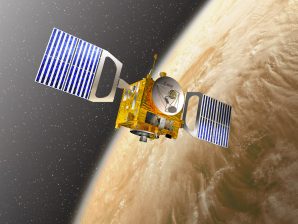 This loss is caused by the solar wind, a flow of electrically charged particles streaming from the Sun. While the Earth's magnetic field protects our planet's atmosphere from the solar wind, the absence of a magnetic field around Venus may explain the continuing loss of water in the course of its history.